Holiday Gift Guide from the Barefoot Team
Gift Guide: Top Things to Give to a Surfer & Traveler
Before we dive into some of our most trusted and recommended products this holiday season, we have some words of wisdom we think are important to point out:
We think having a partner or friend who loves to surf and travel is great when it comes to finding a gift because there are so many options. Before we go further with our top favourite products, we would like to give important advice to non-surfers: Don't buy your partner a surfboard.
‍Unless he or she specifically gave you the exact brand, model, material and dimensions he or she wants, forget it. This may sound surprising, but a surfboard that is only 1 inch too long, or a quarter of an inch too thick can make an important difference. Surfers can also be very picky when it comes to getting the perfect fins or the perfect traction pad, so be careful. Unless you or a friend knows exactly what your loved one wants, buying surfboard equipment is risky. It would be a safer bet to go for other types of accessories like a fin wallet, a chamois towel, a changing poncho if he or she needs to put on a wetsuit regularly (a good place for this is on the FCS website).
Here are just a few of our favourite items we recommend to any surfer or traveller.
Articles - Tutorials Video Banner
tutorials for beginners & intermediates
community & forums
clear, simple instructions
get rid of bad habits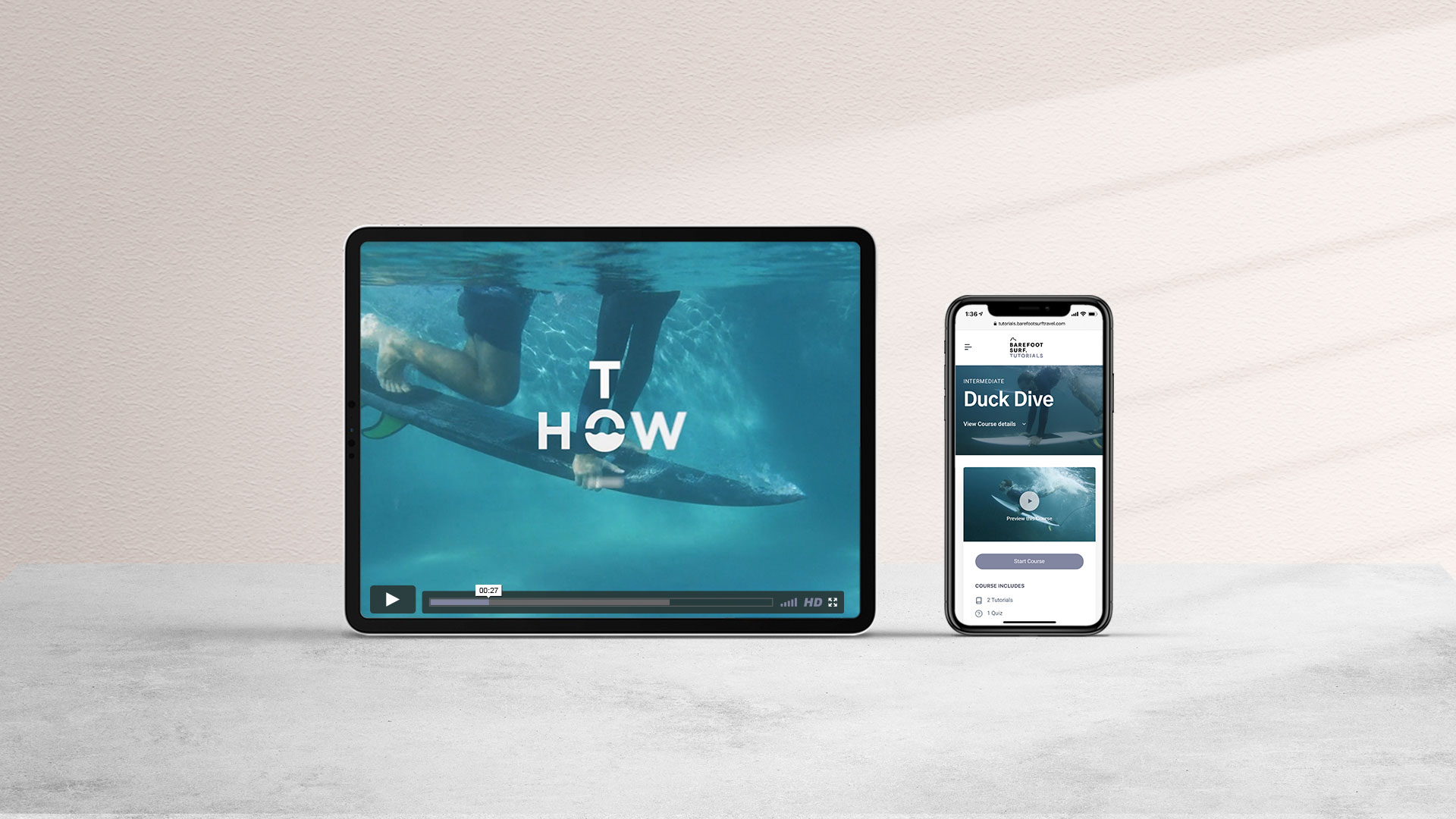 # 1 FOR THE CLEVER PENNY-PINCHER:
‍The Orange Peel Wax Recycling Container, a gift from Nicaragua Travel Director, François Hache
When you go for a long session in the middle of the day, the temperature in the car can be similar to an oven, and if you've got some wax in your car, it's bound to melt on your seat potentially ruining them. With this easy gift, you can recycle a tiny piece of wax and save your car! I always lose the last bit of wax, so with this, I can recycle all the small pieces easily. Plus I know where my wax is now – it's always in my cup holder!
#2 FOR THE ANIMAL LOVER IN THE SUN:
‍Tropic Skincare Sun Balm + Tinted Skin Shade Facial Sun Protection, a gift from Surf Coach, Naomi Bishop
It's nice to know what you're putting on your face so often is made out of all-natural ingredients. I stumbled upon this new product, and I love it! I wear it when I'm hanging at the beach and every time I surf, even on the sunniest days.
Not only are the ingredients pure, natural formulas, free from toxic chemicals, but Tropic Skincare is a cruelty-free product. The products are never tested on animals and are certified by The Vegan Society, Cruelty-Free International, and PETA (People for the Ethical Treatment of Animals).
‍ #3 FOR THE 8-HOURS A NIGHT FRIEND:
‍The Cabeau Evolution Pillow, a gift from Co-founder, Gabriel Lanoix
I used to despise travel pillows. All they did was take too much space in my luggage. To take less space, I purchased an inflatable travel pillow. It was so bad I never used it.
Travel pillows never helped me to sleep, until I tried the Cabeau Evolution Pillow. The difference: the shape is more comfortable and it has PremiumMemory Foam. Whenever I go from North America to Australia or Indonesia, I take a sleeping pill and put it on along with noise-cancelling headphones. The perfect set-up!
#4 FOR THE ENVIRONMENTALLY CONSCIOUS YOGI:
‍Jade Travel Yoga Mat, a gift from Chief Editor, Natalie Snyder
I've been using solely Jade products for the last 5 years. In my opinion, they're the best yoga mat in the industry, and I don't foresee my preference changing any time soon. After using their most popular mat, the Harmony Mat, for multiple years throughout the US and while living in Nicaragua, I decided to invest in their Travel Mat. The Travel Mat is $15 cheaper as well as only 3 lbs instead of Harmony's 5 lbs. This is a big difference when travelling light!
Articles - Retreat Video Banner
tailored surf coaching
6 coaches for 12 students
only the best surf spots for your level
most consistent locations on earth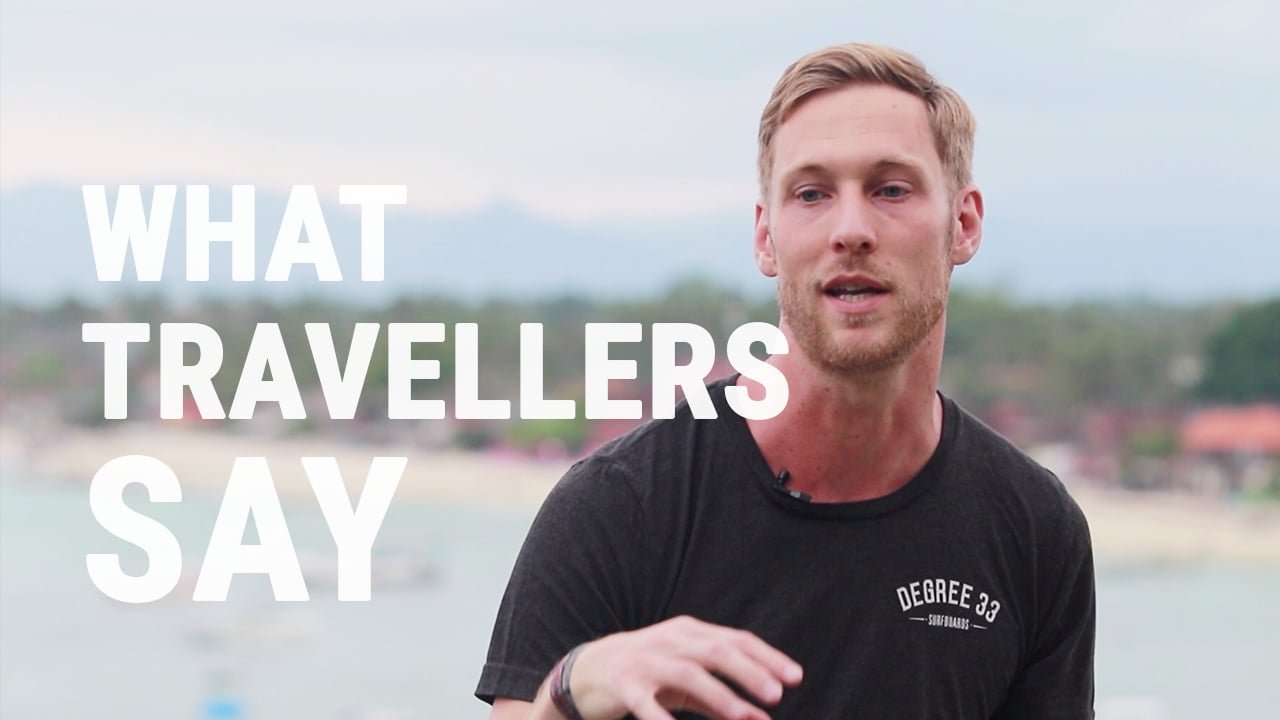 Since the purchase, my Travel Mat has accompanied me through El Salvador and Indonesia. The mat fits comfortably strapped to my backpack carry-on and has caused no complications while stuffing it in overhead compartments. It's a nice item to have with those long layovers between 14-hour flights when you're longing to lay on the floor as if it were a feather-pillowed bed.
Jade is also committed to making a positive impact on the world. Their mats are made with an eco-friendly, renewable resource natural rubber and are entirely made within the US. Jade has also partnered with Trees for the Future, planting one tree for every mat sold. Since 2006, they have planted over one million trees! Keep an eye out for the various colours sold – sometimes a portion of the cost goes to support several causes – Pink for Breast Cancer charities and Teal for Ovarian Cancer charities!
#5 FOR THE BABE WHO DATES THE WAVES:
‍Billabong Surf Vibes Peeky Jacket, a gift from Surf Coach, Naomi Bishop
This is perfect for chilly morning dawn patrols or even just to protect you from the hot sun. It's so easy to get on and off with the long zipper down the middle rather than one you pull over your head, which can prove to be almost more exhausting than surfing itself! This is my go-to item for surfing, of course, after my surfboard.
#6 FOR THE TECHIE TRAVELLER:
‍Kindle Paperwhite, a gift from Chief Editor, Natalie Snyder
This was actually given to me as a graduation gift from my brother and has been a travel companion of mine since my Yoga Teacher Training in Nicaragua. With the stack of books required, having this E-reader saved some extra space in my pack as well as protecting me from potential damage to my back!
I was always an anti-e-reader person, having always loved to feel the pages between my fingers, but, guess what, you don't have to completely retire one for the other. Having the Kindle Paperwhite while travelling ensures you'll have access to countless books for entertainment or business, being key on long flights, layovers and/or a remote job.
My absolute favourite feature of this product is the grayscale screen which makes it feel like you're not even using an electronic device!
#7 FOR THE PEACEFUL PARTNER:
‍Bose Quiet Comfort 35, a gift from Co-Founder, Alexandre Vassilatos
Once these headphones come into your life, you can hardly imagine going back to how you lived before. They're known to be the ultimate travel companion, and it's not without reason. To give you an idea, the Bose QC35 showed me what it's like to actually hear dialogues in movies on long flights before drifting off directly next to a crying baby.
Whenever I'm travelling, I make sure they're fully charged because I know the minute I enter the airport, I won't want to take them off before I step foot on my destination's ground. I'll need that 20-hour charge and Bluetooth ease while ordering a coffee, boarding my plane, or waiting in line at immigration.
Outside the airport, these headphones completely changed the way I concentrate. Even without music, the Noise Cancellation feature itself makes you feel like you're in a bubble.
I know this price tag can seem pretty intimidating, but if sound quality, peace and productivity are important to you, chances are you'll never regret this investment.