7 Things To Know Before Booking a Surf Camp
We're big supporters of all types of surf trips – whether you're in an all-inclusive week-long surf camp or living out of a van for months. As long as you're spending time in the water, all surf trips are good. We've compiled a list of things to know before booking or planning your surf trip so you can have the best experience for yourself.
1. Booking a Surf Camp vs. Planning Your Own
Surf Camp Option: In many surf camps, staff will take care of aspects of your trip such as transportation, food, surf lessons, equipment, accommodation, etc. It is sometimes complicated for beginners to know where, and when to surf the right surf spots for their level. Surf Camps can help with this.
‍Planning Your Own Option: This will most probably be the cheapest option. If you're a beginner, we suggest doing proper research to make sure you choose the proper spot for your level, get to know about the hazards of the place, talk to other surfers at the spot, etc. If you have many weeks of vacation, this could be a good option. If your vacation time is limited to one or two weeks, a surf camp might be better for you since finding the proper spots for your skills and preferences might take a few days.
Articles – Retreat Video Banner
tailored surf coaching
6 coaches for 12 students
only the best surf spots for your level
most consistent locations on earth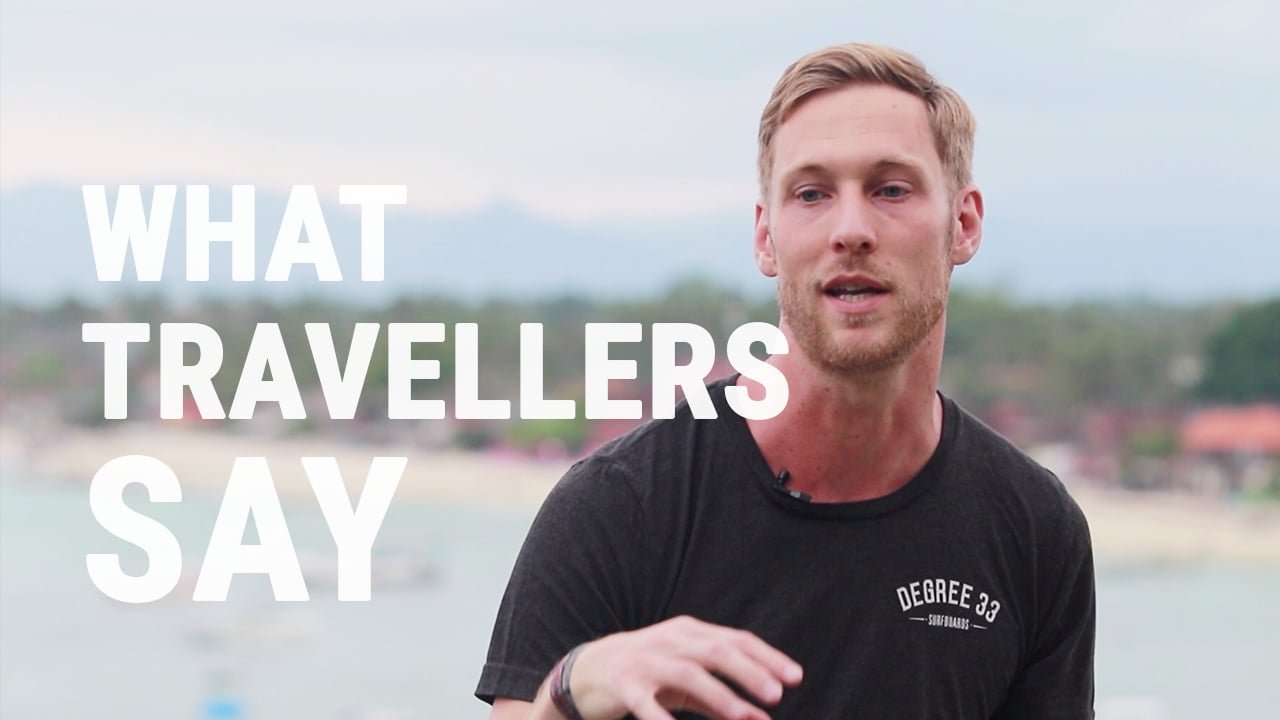 2. The Surf Spot(s)
Make sure the surf spots you are going to surf are good for your level. Beware of surf camps that offer "waves for all levels of surfers". This is extremely rare. Normally beginner surfers and advanced surfers are looking for very different types of waves.
Here are our favourite websites to learn about surf spots across the world:
https://www.wannasurf.com/spot/
https://www.surfline.com/travel
http://www.surfing-waves.com/atlas.html
3. Cost of Living
If you're on a budget, it's a good idea to do a bit of research about the average price for a meal, for a drink, a taxi, equipment rentals, etc. It can vary greatly from one surfing destination to another.
4. Swell Seasons & Wave Consistency
One of the very important aspects to consider before you make a decision is the consistency of waves at a destination. What happens if you book a surf camp and there are no waves for the whole week? Or what happens if waves are 10-12 feet for the whole length of your first surf trip ever? Although wave sizes are impossible to predict many months in advance, there are extremely consistent surf coasts that practically offer waves year-round (for example many islands in Indonesia and the Pacific coast of Central America), while others are highly inconsistent (for example, in the Caribbean, one week can be a lake, the following one can have gigantic waves).
Also, consider "swell seasons": most places have an "average" wave height during specific months of the year. For example on the Pacific coast of Costa Rica and Nicaragua, from November to February, surfers can expect waves from 1 – 3 feet height on an average day. March and April get bigger and from May to August is the "bigger wave season", with waves from 3 to 6 feet on average, depending on the day.
Even though some Surf Camps are open year-round, each destination has "Prime Seasons" for waves and weather. It can be a bit tricky to understand this on your own. If you want to know which are the "Prime Seasons" for your specific surf level for some destinations you are considering, don't hesitate to drop us a line here, and it will be our pleasure to help you with this.
Here are the best websites for information about swell seasons & water temperatures:
‍http://www.surfing-waves.com/atlas.html
https://magicseaweed.com (Check the "Spot Guides" for swell consistency)
5. Weather & Water Temperatures
Do you want to surf in warm water or do you not mind putting on a wetsuit? Going to a cold water location often means less crowds, if warm climate is not an important element for you.
Spot water temperatures:
http://www.surf-forecast.com/ (find the spot & click on the "Water Temp." link)
Is learning to surf the main objective of your trip? Or is it just another experience you want to live on your trip? If you really want to learn how to surf properly, you should look for a surf camp with a good reputation that offers small coach-to-student ratios and structured programs. If not, surf hotels or surf hostels will give you the flexibility to book a room and book individual lessons when you wish to. Generally, this is cheaper, but there isn't as much quality control for the lessons in such places.
7. Travel Visas and Documents
Before you choose a surf camp or a destination, verify if you need a specific Visa or any other document to enter the country. In most places in the world, your passport should be valid for more than 6 months after your date of entry so you should verify this. We recommend making a copy of your passport to keep for your records!
Don't forget these things:
Book a Travel Insurance! Make sure it covers surfing as an activity. *If you're booking with a travel credit card, look into the specific insurance coverage it has.
Quality, waterproof sunscreen and zinc sticks if you're going to a very sunny location. Our favourite sunscreen & zinc brand is HeadHunter.
A wetsuit if you're going to a cold water destination
Mosquito repellent is a must for most tropical destinations
Make sure you have the necessary vaccines for the destination